To all Trainees!
We are pleased to announce the second Dr Corinne Camilleri-Ferrante Trainees Award. The theme for this year is The Trainee Experience – The Good, The Bad, and the Ugly…
The winner will be invited to attend our Faculty of Educators' Development Symposium on Wednesday, 13 October at Leicester City Football Club. They will be awarded their certificate by Prof Sue Carr, Deputy Medical Director, General Medical Council, and present their talk based on their abstract as one of the keynote speakers. The purpose of the talk is to inspire educators to think more broadly about education especially from a trainee's viewpoint, also to challenge educators to think about issues we may not have considered.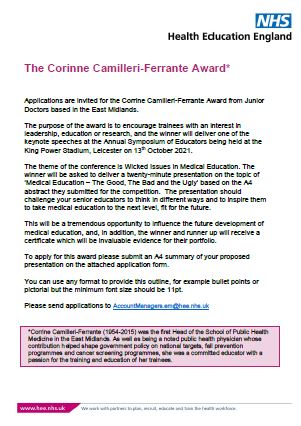 If you are interested, please complete the application form, including your abstract which gives a flavour of what your talk would include. Your abstract should be no more than one A4 page with a minimum size 11 font. It can include bullet points, paragraphs or just pictures it is up to you, be creative!
Please submit your application form to AccountManagers.em@hee.nhs.uk by  midnight Sunday 12 September 2021, the winner will be announced by Friday 17 September. Please note that the purpose of the talk is to inspire your trainers into thinking differently and not to air specific complaints!
The Corinne Camilleri-Ferrante Trainees Award is named after the first Head of the School of Public Health who tragically died whilst in office.  It is the major educational award in the East Midlands and is open to all trainees.
We look forward to receiving your interpretations and helping us to find innovative ideas to improve the future of medical education.