Emergency Medicine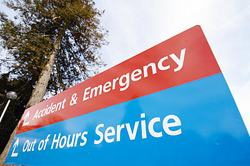 If your passion is Emergency Medicine, the East Midlands is the perfect place to train. Offering a superb work/life balance and a high quality training programme centred around three of the UK's busiest emergency departments you can develop your career in one of the country's fastest growing regions.
Keep reading to find out more about training in Emergency Medicine in the East Midlands.
East Midlands offers excellent Emergency Medicine training at some of the UK's biggest centres
When you come to the East Midlands you'll benefit from a broad range of experience in both major emergency units and smaller district general hospitals. Nottingham's Queen's Medical Centre and Leicester's Royal Infirmary deal with 380,000 patients every year and working in two of the UK's biggest units will give you superb exposure to the pressures and challenges of Emergency Medicine.
In addition, your training will include a placement at one of the UK's major trauma centres and experience of both paediatrics and paediatric intensive care.
High exam success rates and the opportunity to present at international conferences
When you train in Emergency Medicine in the East Midlands you'll benefit from a high quality of teaching and experience, evidenced by our high exam success rates (a 100% pass rate at the Autumn 2014 exams).
You'll work with supportive mentors who will help you to plan your training and develop your career and you'll also be encouraged to present at both national and international conferences and to share your work with experts in the UK and abroad.
And, you'll also be actively encouraged to consider 'out of programme' training experiences to aid the development of your career. This may include training in paediatrics, care of the elderly, medical training or pre-hospital care.
One of the best 50 urban places to live in the UK
As well as one of the country's leading Emergency Medicine training schemes, the East Midlands has plenty to offer.
In 2015 the Sunday Times named Nottingham as one of the best 50 urban places to live in the UK, praising the city for its rich heritage and live music scene. Lonely Planet said of Derby that 'there's a lot to offer there that you don't get anywhere else in England' and named the King Richard III Visitors Centre in Leicester as one of its 'pick of new travel experiences' for 2015 while Lincoln's blend of old and new merge beautifully to offer boutique shopping, cobbled streets and Roman ruins alongside contemporary culture and vibrant nightlife..
The region attracts millions of visitors every year from all over the world. Lincoln was named in the top 20 hottest holiday destinations of 2015 by the Daily Telegraph while the Guardiancalled Nottingham 'one of Britain's most vibrant and cosmopolitan cities'. And, with other charming market towns including Chesterfield, Kettering and Northampton also in the region, there is always something going on.
Over 100,000 students attend the region's universities and there are hundreds of pubs, clubs and restaurants. The region also boasts an international film festival, concert venues that attract world class artists, big music festivals and the largest Caribbean carnival in the UK outside Notting Hill.
In addition, house prices are 62% lower than London, 44% lower than the South East and 25% lower than the South West. Centrally located, it's also easy to reach the rest of the UK and beyond via the motorway network, excellent rail services and East Midlands Airport which serves over 90 destinations.
For more information contact our Head of Schools:
| | | | | |
| --- | --- | --- | --- | --- |
| Speciality | Name | Role Title | Trust | Email |
| Emergency Medicine | Asif Malik | Head of School | University Hospitals of Leicester NHS Trust | |
| Emergency Medicine | Mark Williams | Deputy Head of School | Nottingham University Hospitals NHS Trust | |
Alternatively, please contact our Training Programme Directors:
| | | | | |
| --- | --- | --- | --- | --- |
| Speciality | Name | Role Title | Trust | Email |
| Acute Care Common Stem | Dr David Shearn    | TPD ACCS North | Nottingham University Hospitals NHS Trust | |
| Acute Care Common Stem | Dr Vivek Pillai   | TPD ACCS South | University Hospitals of Leicester NHS Trust | |
| Emergency Medicine | Dr Raza Dar    | TPD Higher Specialty Training | Nottingham University Hospitals NHS Trust | |
| Emergency Medicine | Dr Venkat Kotamraju  | TPD Exam Support | University Hospitals of Derby and Burton NHS Foundation Trust | |
| Emergency Medicine | Dr Elizabeth Burgess   | TPD Emergency Medicine | University Hospitals of Derby and Burton NHS Foundation Trust | |
| Emergency Medicine | Dr Amit Jaiswal    | TPD Ultrasound   | Sherwood Forest Hospitals NHS Foundation Trust |   |