Medicine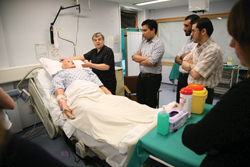 If medicine is your passion, the East Midlands is the perfect place to develop your career. The School of Medicine offers high quality medicine training, world-class facilities and unrivalled opportunities and so whether you're looking to undertake your core or higher specialist training the region has something to offer you.
The East Midlands is one of the UK's fastest-growing and vibrant regions. Boasting many of the country's leading facilities you'll gain wide experience in a friendly and supportive environment. Rotations and placements are arranged around you and your family, meaning you don't have to commute for hours or move home mid-programme.
Keep reading to find out more about medicine in the East Midlands.
A high quality Core Medical Training scheme
The East Midlands is a great place to undertake your Core Medical Training. Not only will you benefit from placements in major teaching hospitals but you'll also gain experience in rural hospitals, the medical specialties, intensive care medicine and the treatment of chronic disorders.
With hospitals in four cities, you'll benefit from a high volume of work and a wealth and variety of clinical experience. You'll be exposed to both specialised environments (such as haematology and hepatology) and unselected admissions, giving you the best of both worlds.
"Over the course of my 2 years of Core Medical Training in the East Midlands, I've had the opportunity to work with eminent senior figures across a wide range of medical specialties, who actively partake in research alongside their clinical duties and are committed to getting trainees involved in their work. The programme of weekly whole-afternoon teaching is unique, and something which trainees here are proud of" - Victoria Green, Trainee
For more information about the Core Medical Training Scheme click here.
Develop your career with a wide choice of Higher Specialist Training programmes
Whatever your passion, the East Midlands has a high quality training programme for you. You can join one of over 20 training schemes from cardiology and neurology to palliative medicine and infectious diseases, all supervised by nationally and internationally renowned experts.
Your programme is structured so that you are exposed to a busy workload and you'll work in some of the UK's leading facilities including two of the country's major teaching hospitals.
You have lots of academic opportunities through nine Universities and the University of Nottingham is one of only five UK institutions in medicine rated in the world's top 30, and is the only institution in the UK to host two nationally-funded biomedical research units.
To find out more about the medicine training programmes on offer, choose your specialty by clicking on,  'In this section'  above..
Live and work in an affordable, convenient and thriving region
There are lots of reasons to live and work in the East Midlands. As well as high quality medicine training arranged to minimise the disruption on your social and family life, house prices are 62% lower than London. It's also convenient - Leeds, London, Birmingham and Manchester are all under two hours away by road and rail.
Major cities such as Nottingham, Leicester, Derby and Lincoln offer a wealth of days and nights out while the region is full of museums, galleries, world-class concert venues and beautiful countryside.
"I have enjoyed training...in the East Midlands. The hospital placements have given me a broad range of experience from large teaching hospital sub-speciality clinics to community based care. I have felt well supported by my supervisors and there are regular regional teaching days which cover all aspects of the curriculum. Overall the East Midlands is an excellent location to train..." -  Frances Rees, trainee:
Interested in Health Inequalities and Developing your Leadership Skills?
The East Midlands are excited to offer an innovative programme for a select number of IMT1 trainees starting in August 2022. Trainees will be able to undertake the 'Enhance' programme in Leadership and Social Medicine alongside Internal Medicine Training, receiving specialist training in areas such as health inequalities and public health. They will then have the unique opportunity to spend time as a hospital doctor in the community, working with local organisations to tackle health inequalities and make tangible changes for the local community. Trainees will have protected time for the 'Enhance' program and will be paid for their time on the program.
A link to the NHSE video detailing potential future opportunities available for trainees undertaking this program is below:
https://vimeo.com/519949471/8332a0daac
For more details regarding this unique scheme please contact the following contacts:
| | | | | |
| --- | --- | --- | --- | --- |
| Speciality | Name | Role Title | Trust | Email |
| Medicine | Bisharat El-Khoury | Head of School | Nottingham University Hospitals NHS Trust | |
| Medicine | Neeta Patel | Deputy Head of School | University Hospitals of Leicester NHS Trust | |
| Acute Internal Medicine | Nanda Kishore Nalla | TPD Acute Medicine | Nottingham University Hospitals NHS Trust | |
| Acute Internal Medicine | Syed Jafri | TPD Acute Medicine | Kettering General Hospital NHS Foundation Trust | |
| Allergy and Immunology | Alex Croom | TPD Allergy and Immunology | Nottingham University Hospitals NHS Trust | |
| Cardiology | Sachin Jadhav | TPD Cardiology | Nottingham University Hospitals NHS Trust | |
| Cardiology | Julia Baron | TPD Cardiology | University Hospitals of Derby and Burton NHS Foundation Trust | |
| Clinical Genetics | Pradeep Vasudevan | TPD Clinical Genetics | University Hospitals of Leicester NHS Trust | |
| Clinical Oncology | Kerstie Johnson | TPD Clinical Oncology | Nottingham University Hospitals NHS Trust | |
| Clinical Oncology | Lesley Speed | TPD Clinical Oncology | University Hospitals of Leicester NHS Trust | |
| Internal Medicine Training Stage 1 | Janson Leung | TPD CMT/IMT Regional (Stage 1 Lead) | University Hospitals of Derby and Burton NHS Foundation Trust | |
| Internal Medicine Training Stage 1 | Lindsay Chesterton | TPD CMT/IMT Regional (Stage 1 Lead) | University Hospitals of Derby and Burton NHS Foundation Trust | |
| Dermatology | Kid Wan Shum | TPD Dermatology | University Hospitals of Derby and Burton NHS Foundation Trust | |
| Dermatology | Matthew Scorer | TPD Dermatology | University Hospitals of Leicester NHS Trust | |
| Endocrinology and Diabetes Mellitus | Shailesh Gohil | TPD Diabetes and Endocrinology | University Hospitals of Leicester NHS Trust | |
| Endocrinology and Diabetes Mellitus | Zin Htike | TPD Diabetes and Endocrinology | Nottingham University Hospitals NHS Trust | |
| Medicine (non-specialty) | Dheeraj Giri | Director of Innovation and Communication | Kettering General Hospital NHS Foundation Trust | |
| Medicine (non-specialty) | Hari Ratan | Director of Innovation and Communication | Nottingham University Hospitals NHS Trust | |
| Gastroenterology | Adam Lawson | TPD Gastroenterology | University Hospitals of Derby and Burton NHS Foundation Trust | |
| Gastroenterology | Rekha Ramiah | TPD Gastroenterology | University Hospitals of Leicester NHS Trust | |
| Genito-Urinary Medicine | Ashini Fox | TPD Genito Urinary Medicine | Nottingham University Hospitals NHS Trust | |
| Geriatric Medicine | James Reid | TPD Geriatric Medicine | University Hospitals of Leicester NHS Trust | |
| Geriatric Medicine | Mun Hoe Poon | TPD Geriatric Medicine | Nottingham University Hospitals NHS Trust | |
| Internal Medicine Training Stage 2 | Mohsin Zaman | TPD Internal Medicine Training (IMT Stage 2 Lead) | Northampton General Hospital NHS Trust | |
| Internal Medicine Training Stage 2 | Biju Simon | TPD Internal Medicine Training (IMT Stage 2 Lead) | University Hospitals of Leicester NHS Trust | |
| Haematology | Frances Wadelin | TPD Haematology | Nottingham University Hospitals NHS Trust | |
| Haematology | Karyn Longmuir | TPD Haematology | Kettering General Hospital NHS Foundation Trust | |
| Infectious Diseases | Bethan Walsh | TPD Infectious Diseases | Nottingham University Hospitals NHS Trust | |
| Medical Oncology | Sarah Khan | TPD Medical Oncology | Nottingham University Hospitals NHS Trust | |
| Medical Oncology | Samreen Ahmed | TPD Medical Oncology | University Hospitals of Leicester NHS Trust | |
| Neurology | Michael Knopp | TPD Neurology | University Hospitals of Derby and Burton NHS Foundation Trust | |
| Occupational Medicine | Harjinder Kaul | TPD Occupational Medicine | University Hospitals of Leicester NHS Trust | |
| Paediatric Cardiology | Suhair Shebani | TPD Paediatric Cardiology | University Hospitals of Leicester NHS Trust | |
| Palliative Medicine | Victoria Taylor | TPD Palliative Medicine | University Hospitals of Derby and Burton NHS Foundation Trust | |
| Palliative Medicine | Fiona Wiseman | TPD Palliative Medicine | Northamptonshire Healthcare NHS Foundation Trust | |
| Rehabilitation Medicine | Piera Santullo | TPD Rehabilitation Medicine | University Hospitals of Derby and Burton NHS Foundation Trust | |
| Renal Medicine | Joanna McKinnell | TPD Renal Medicine | University Hospitals of Derby and Burton NHS Foundation Trust | |
| Renal Medicine | Ricky Bell | TPD Renal Medicine | University Hospitals of Leicester NHS Trust | |
| Respiratory Medicine | Pranabashis Haldar | TPD Respiratory Medicine | University Hospitals of Leicester NHS Trust | |
| Rheumatology | Arumugam Moorthy | TPD Rheumatology | University Hospitals of Leicester NHS Trust | |
| Sport and Exercise Medicine | Kate Strachan | TPD Sport and Exercise Medicine | Nottingham University Hospitals NHS Trust | |