Rheumatology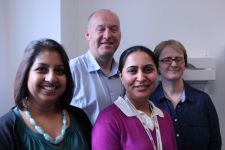 Dedicated connective tissue disease team
If your passion is rheumatology, the East Midlands is the perfect place to train. With affordable house prices, superb transport links to the rest of the UK and a high quality training programme, you can develop your career in one of the UK's most popular regions.
When you come to the East Midlands you'll benefit from high standard of supervision and a rotation that is designed to give you the widest experience. In addition, you'll enjoy regular contact with fellow trainees and professionals in order to give you a rich and enjoyable experience.
"I have enjoyed training in Rheumatology in the East Midlands. The hospital placements have given me a broad range of experience from large teaching hospital sub-speciality clinics to community based care. I have felt well supported by my supervisors and there are regular regional teaching days which cover all aspects of the curriculum. Overall the East Midlands is an excellent location to train in Rheumatology." -  Frances Rees, trainee
3 reasons to live and train in rheumatology in the East Midlands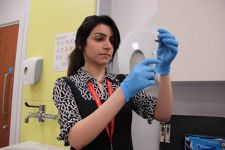 Full training in practical procedures
When you train in the East Midlands you'll develop your knowledge in an environment that is supported by two of the UK's top 25 universities. You'll learn broad and varied clinical skills and, during your time off, you can enjoy leading music, theatre, film and sport.
When you live in the region you'll benefit from:
Superb transport links - The East Midlands has a fast, direct rail link to London with trains from Leicester taking just 67 minutes. Birmingham, Leeds and Manchester are all easy to reach by road or rail and East Midlands Airport serves 90 international destinations including New York, Warsaw, Rome and Amsterdam
A great standard of living - The average house price in the East Midlands is 44% lower than the South East and 25% cheaper than the South West. On average, you will pay around a third of what you'd pay for a home in London which is less than 90 minutes away by train
Lots to do - From Richard III to Robin Hood, there's never a dull moment in the East Midlands. Enjoy a Test cricket match, walk in the Peak District, take a tour of Lincoln Cathedral or even visit one of the world's largest collections of historical footwear
"It's really no wonder that Nottingham is widely regarded as one of Britain's most vibrant and cosmopolitan cities. The compact city centre...combines heritage and history with contemporary culture..." - The Guardian 
Rheumatology training in the East Midlands offers high levels of support and supervision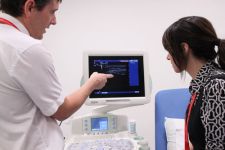 Full training in Musculoskeletal Ultrasound
When you come to the East Midlands you'll benefit from a wide exposure to both urban and rural hospitals in a rotation that is an easy commute. You'll get to spend time in a range of hospitals and specialist facilities and undertake research in association with a range of academics including at the Arthritis Research UK Pain Centre, without the need to move home.
The East Midlands also boasts a dedicated School of Clinical Academic Training, further helping to support your academic development.
With excellent levels of supervision and a highly rated quality of training, you'll have the opportunity to develop your skills in a range of specialist clinics including:
Early Arthritis Clinics
Dedicated Connective Tissue Disease and Vasculitis Clinics
Ankylosing Spondylitis Clinics
Back Pain Management Clinics
Paediatric and Adolescent Rheumatology Clinics
Musculoskeletal Ultrasound Clinics
And a range of interface clinics with the following specialties:
Orthopaedics
Obstetric
Respiratory
ENT
Dermatology
Nephrology
As well as extensive clinical training you'll also benefit from regular contact with fellow trainees. Regional 'registrar training days' bring together all trainees on a monthly basis while a thriving Midlands Rheumatology Society and regular Regional Audit Meetings gives you the opportunity to mix with peers and to present your original work and research.
For more information, email our Training Programme Director:
Dr James Francis - james.francis@uhl-tr.nhs.uk