General Practice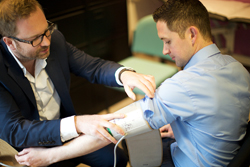 The East Midlands is the perfect place to become a GP. With high quality training, more GP time than other regions and a wide choice of programmes to give you wide experience, our training programmes are designed around you.
With a carefully designed mix of Primary and Secondary Care you'll gain wide experience in a range of centres. And, thanks to the unique geography of the region, you get to develop your skills and knowledge in a range of practices without having to move home or commute for hours every day.
Keep reading to find out more about why you should undertake your GP training in the East Midlands.
Our programmes are all locally based meaning that you won't have to travel far to reach each of your placements. And, our approach to GP recruitment is designed around giving you as much choice as possible to enable you to build a stable family and social life.
With a great mix of both urban and rural locations and thanks to the diversity of the local population you'll benefit from an enviable range of training opportunities.
"After speaking to fellow trainees from the UK one thing I noted from them was that training in the East Midlands was comparable to them and even better in places" - Hannatu Lawan, GP Trainee
High quality training and support
Our highly experienced GP trainers work across the East Midlands meaning you'll benefit from high quality teaching, wherever you are. You'll benefit from a wide range of programmes and learning opportunities in healthcare thanks to our long-standing relationships with the Universities of Derby, Leicester, Lincoln, Northampton and Nottingham and De Montfort University.
Your programme will be directed by teams of enthusiastic educators who ensure that the teaching is of a high quality and their personalised approach focuses on your specific needs. In addition, there are regular opportunities to meet fellow trainees and you'll benefit from strong support from your peer group.
And, we are committed to life-long learning. This means that we will work with you throughout your career in order to develop your skills and knowledge.
Affordable, central and beautiful - why you should develop your career in the East Midlands
When you train in the East Midlands you'll have the opportunity to develop your GP career in a choice of locations. For more specific information about the towns and cities that make up the East Midlands, click here.
Centrally located, it is easy to reach the rest of the UK and beyond from the East Midlands, thanks to:
Superb rail links - Trains run hourly to London. The journey from Northampton takes just 46 minutes and it is just 88 minutes from Derby. There are also regular services to Birmingham, Sheffield, Manchester and Leeds
A great road network - the M1 motorway runs through the region linking the East Midlands to London, Milton Keynes, Sheffield, Leeds and the North of England
East Midlands Airport - this major international airport serves over 90 destinations including New York, Berlin, Budapest, Edinburgh, Prague, Rome and Paris
In addition, the cost of living in the East Midlands is significantly lower than in other regions, despite its proximity to London. The average house price in the region is just £187,000, 44% lower than the South East and 62% cheaper than London.
To find out more about the high quality training programmes in the East Midlands and why the region is the perfect place to develop your GP career, click here.
For more information, speak to one of our Heads of School:
| | | | |
| --- | --- | --- | --- |
| Speciality | Name | Employer | Email |
| General Practice | Caroline Ahrens | NHS England (WT&E) | |
| General Practice | Anjla Sharman | NHS England (WT&E) | |
GP Trainers/Educational Supervisors
This section of the GP Directorate pages are for those qualified who are current GP Trainers or Educational Supervisors who are due to have a reapproval visit or for those who are wanting to become a Trainer or Educational Supervisor.