Clinical Academic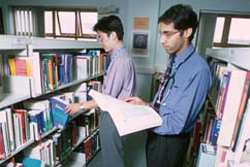 There are lots of reasons for you to consider coming to the East Midlands for your medical training. A vibrant and thriving region, the East Midlands boasts superb transport links, low house prices and world-class culture, heritage and sport.
In addition, the region boasts the School of Clinical Academic Training, specifically designed to support your academic development. You'll benefit from access to the highest quality training and expertise supported by two of the UK's major universities. Keep reading to find out more about the East Midlands School of Clinical Academic Training.
Support, structured training and a great clinical/academic balance
Unlike other regions in the UK, the East Midlands boasts a separate school dedicated to Clinical Academic Training. As one of the first Local Education and Training Boards to develop a Clinical Academic School, you'll be training in a region where there is a school dedicated to support academic trainees.
"I have been really impressed with the academic support network provided by leading academics at the University of Nottingham and the Deanery. I have had access and guidance from world leading researchers who have helped me refine my fellowship applications and have undertaken a series of mock interviews to prepare me for fellowship interviews. Working with different groups within the school of medicine has been challenging and rewarding and I would encourage others to consider applying to HEEM deanery to pursue their academic careers" - Tom Kurien, Trainee
The school exists to support academic training across all Postgraduate Specialty Schools and Primary Care within the East Midlands. We'll ensure that you have access to the highest quality academic training from academic Foundation through to ACF, OOPR opportunities and ACL posts. You'll benefit from the extensive academic expertise of specialists in the East Midlands. And, by co-ordinating your induction, recruitment and appraisal we can make sure your career develops in the way you want it to from the moment you join the programme.
You'll benefit from strong links between the region's research-active Universities, teaching hospitals, GP practices and NIHR. The East Midlands boasts two of the country's top 25 universities, perfect if you are keen to become an academic consultant.
In addition, the presence of a dedicated school means you'll get dedicated academic support, all the guidance you need and a programme which ensures a good balance between your clinical and academic training.
East Midlands boasts some of the UK's top facilities and expertise
The East Midlands boasts two of the country's top 25 universities, two major University Teaching Hospitals, 5 NIHR Biomedical Research Units, a Cancer Research UK centre and the National Centre for Sport and Exercise Medicine.
With unrivalled facilities and expertise, it's the perfect place for you to train. The School of Clinical Academic Training supports all trainees in the schools of:
Anaesthetics
Emergency Medicine
Pathology
Medicine
Paediatrics
Surgery
Radiology
General Practice (GP)
Low house prices, great transport links and a thriving social scene
The East Midlands School of Clinical Academic Training is designed to help you to develop your career - whatever your chosen specialty. As well as this dedicated resource there are also lots of other reasons to train in the East Midlands.
Nottingham has the highest proportion of 16-24 year olds of any city in the country and boasts a thriving social, music and cultural scene. With a world-class concert hall, 8,000-seater arena and a claim to the oldest pub in England, visitors to the city spent over £1.5 billion in 2011.
Leicester is a major university city and hosts the UK's most established comedy festival. With a huge Caribbean carnival and Diwali celebrations it is a diverse and vibrant city just 67 minutes by train from London.
Derby is undergoing a £2 billion transformation and is the gateway to the beautiful Peak District National Park while Lincoln is another university city, where old and new blend beautifully to offer boutique shopping, cobbled streets and Roman ruins alongside contemporary culture and vibrant nightlife, with a skyline dominated by its magnificent cathedral. With the market towns of Chesterfield, Northampton and Mansfield also close by, there are plenty of great places to live and socialise in the East Midlands.
For more information, email one of our Training Programme Directors:
Dr B Ollivere - ben.ollivere@nuh.nhs.uk
Dr R Green - ruth.green@uhl-tr.nhs.uk