Radiology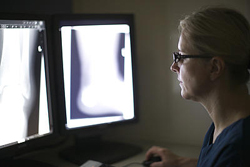 If you are looking for an outstanding Radiology programme, the East Midlands is the perfect place to train. The region features a number of superb hospitals and your rotation will ensure you get a breadth of experience at different locations without the need to move home during your training.
You'll benefit from great management and support and our trainees consistently achieve a high level of clinical excellent and examination results. You'll also have opportunities for academic research and to focus on sub-specialties that are of interest to you.
Keep reading to find out more, or click here for more about the superb training programme.  To discover why the East Midlands is the perfect place for you to develop your career, click here. 
Rotations designed to help you gain wide experience without moving home
In many areas of the country, your rotation will mean that you have to commute long distances to hospitals or, in some cases, move home to be closer to your work. The unique geography of the East Midlands and its superb transport links mean you gain wide experience in a range of urban and rural locations without moving home or spending hours in the car or on the train.
The major cities of Nottingham, Derby and Leicester are within 30 miles of each other and other locations such as Lincoln, Northampton and Chesterfield are easily reached by road or rail. The M1 motorway runs through the region linking the East Midlands to London and Leeds while Cambridge, Oxford and Sheffield are also easy to reach by car.
A superb rail service links all the region's cities making it easy to commute within your rotation. In addition, trains to London run regularly and take less than 90 minutes, making it easy to visit friends and family.
High levels of clinical excellence and trainee support
When you come to the East Midlands to train in Radiology you know you will get a high standard of training delivered by experts. All our students benefit from a high level of support and one-to-one tuition and our trainees consistently achieve exceptional examination results.
You will benefit from a half day of protected and structured teaching every week and an additional half day of private study during which you will be encouraged to participate in teaching, audit and research. These training days allow you to regularly meet with other trainees allowing a strong peer network to develop within your specialty.
Superb facilities and grant-supported research opportunities
Training in Radiology in the East Midlands gives you access to some of the UK's leading facilities. The University Hospitals of Leicester NHS Trust is one of the largest Trusts in the UK and the Directorate of Imaging Services is one of the largest single directorate radiology services in the UK. Indeed, the department was actively involved with the scanning and interpretation of the remains of King Richard III which received extensive recognition in the media.
Nottingham University Hospitals NHS Trust is one of the largest acute teaching hospitals in the UK and offers a fantastic opportunity for you to develop in your chosen career of Radiology. The first year Foundation Course provides excellent preparation for the FRCR Part 1 exam. You will also benefit from a wide range of subspecialty training options in both diagnostic and interventional radiology as well as the opportunity to undertake Academic training through the established ACF/ACL programme.
Find out more about the superb Radiology training programme in the East Midlands here and to find out more about why the East Midlands is the ideal place to live and work here.
For more information, speak to our Heads of Schools and Training Programme Directors:
| | | | | |
| --- | --- | --- | --- | --- |
| Speciality | Name | Role Title | Trust | Email |
| Radiology | Arumugam Rajesh | Head of School | University Hospitals of Leicester NHS Trust | |
| Radiology | William Adair | Deputy Head of School | University Hospitals of Leicester NHS Trust | |
| Clinical Radiology | Adam Thomas | TPD Radiology | Nottingham University Hospitals NHS Trust | |
| Clinical Radiology | Kate Waters | TPD Radiology | University Hospitals of Leicester NHS Trust | |