Broad Based Training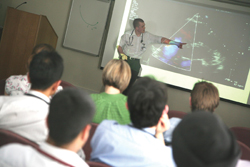 Currently undertaking your foundation training and looking for an innovative two-year core-training programme? If so, the East Midlands' Broad Based Training (BBT) scheme could be right for you.
Keep reading to learn more about the many benefits of Broad Based Training and why the East Midlands is the perfect place to train.
Broad based training (BBT) gives you wide experience in 'whole person' care
Broad Based Training is a new core two-year programme, which aims to give you training that will enable you to care for patients throughout their journey in the healthcare system. You can apply to the scheme in your second year of foundation training or equivalent.
The BBT programme comprises of four six-month placements in General Practice, Psychiatry, Paediatrics and Medicine. You will have opportunities in all placements to work on the primary/secondary care interface and across all specialties.
On completion of BBT training you can join GP training or Paediatrics specialty training at ST2 grade without further selection. If your career choice is Medicine or Psychiatry you will be guaranteed an ST2 in Medicine or an ST2 and ST3 in Psychiatry in the East Midlands before further selection for higher specialty training in Medicine or Psychiatry.
An established programme giving you the chance to work with a wide variety of teams
BBT is an innovative programme and, as one of the first UK pilot sites for the scheme, we have experience in delivering a fulfilling and high quality experience.
You will benefit from working in new areas under the care of some nationally and internationally renowned experts you may have not otherwise had the chance to experience. In the East Midlands you'll follow trainees who have enjoyed opportunities to work with a variety of specialty groups including CAMHS, Eating Disorders and Learning Disability teams.
You will join a programme that provides a good balance of specialty training and broader generalist training. This allows you to consider healthcare provision in an integrated way rather than accepting the established boundaries of primary, secondary and cross-specialty care.
The East Midlands is one of the UK's most vibrant and thriving regions
With nine universities, four cities and countless other thriving market towns and villages, the East Midlands is one of the UK's most popular regions. Nottingham and Leicester boast top 25 Universities and are two of England's biggest cities while Derby, Northampton and Lincoln boast history, beautiful countryside and lots more.
When you live and work in the East Midlands you'll benefit from:
Low house prices - the average house price in the region is 44% lower than the South East and 62% lower than London
An easy commute - thanks to the unique geography of the region your placements can be arranged so that you don't have to move home mid-programme or face a long journey to work
The best sport - enjoy Test cricket, Premier League football, the British Grand Prix, European rugby and top-flight ice hockey and basketball. Plus get involved at Derby Velodrome, the National Ice Centre or the National Watersports Centre
World-class culture - from Lonely Planet recommended museums to award-winning drama and comedy, the region boasts a thriving local music scene, an international film festival, one of the country's leading contemporary art galleries and the biggest Diwali celebrations outside India
For more information, email our Training Programme Director:
Reem Al-Jayyousi - rhaj2@leicester.ac.u