Histopathology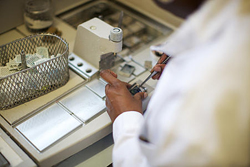 If Histopathology is your passion, the East Midlands is the perfect place to train. As well as wide exposure to patients in some of the country's busiest hospitals you'll also benefit from high quality training and the support of two of the country's top 25 Universities.
As well as a high quality Histopathology training programme, when you live in the East Midlands you'll also benefit from low house prices, world-class arts and sport and superb transport links. Keep reading to find out more about Histopathology training in the East Midlands.
High quality training and rotations designed around you
Histopathology is a speciality that involves you making diagnoses and deriving prognostic information from the examination of cytological samples, biopsies and resections from organs of the bodies of living patients.
As a Histopathologist you'll work in the laboratory in partnership with scientists and doctors from a range of specialties. You'll have a thorough knowledge of both the pathological and clinical aspects of disease. And, you'll demonstrate excellent communication skills as you produce written reports and presentations for the discussion of cases at multidisciplinary meetings, with physicians, surgeons, oncologists, radiologists and specialist nurses.
Many histopathologists also perform autopsies and may be required to present these cases either at hospital mortality meetings or in the coroner's court.
When you come to the East Midlands you'll benefit from a great range of opportunities. You'll gain experience in a wide range of areas and the unique geography of the region means that you won't face a lengthy commute to work or the prospect of moving home during your training.
The East Midlands offers world class sport, art, music, days out and culture
"It's really no wonder that Nottingham is widely regarded as one of Britain's most vibrant and cosmopolitan cities. The compact city centre, just a short bus or bike ride from the University, combines heritage and history with contemporary culture..." - The Guardian
Centred around the cities of Leicester, Nottingham, Derby and Lincoln, the East Midlands is one of the UK's fastest growing regions. With nine Universities, dozens of well-known market towns and two of the country's leading hospitals it's the perfect place to undertake your Histopathology training.
When you live and work in the East Midlands you'll benefit from:
Great days out - the region is hugely popular with tourists. In 2015 Lincolnshire was named the third hottest holiday destination while Lonely Planet named the King Richard III Visitor's Centre in its top 10 best new attractions in 2015. With national museums dedicated to shoes, videogames, space travel and porcelain you're never short of something to do on your day off
Low house prices - the average house price in the East Midlands is 62% lower than London and 44% lower than the South East. London is just 67 minutes from Leicester by train
Beautiful countryside - Sherwood Forest and the Peak District are on your doorstep while Northampton's 170 parks and open spaces exceed 1,880 acres. You can also explore Rutland Water, the National Forest and the Lincolnshire coast
For more information about Histopathology training in the East Midlands email our Training Programme Director: 
Cathy Richards - cathy.richards@uhl-tr.nhs.uk