Medical Microbiology and Virology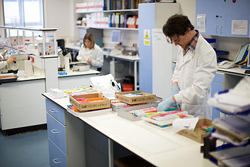 If you're looking for a high quality Medical Microbiology and Virology training programme, the East Midlands has lots to offer. You'll train at some of the UK's leading facilities and the unique geography of the region means you don't face a long commute or the prospect of having to move home during your training.
Keep reading to find out more about Medical Microbiology and Virology training in the East Midlands.
Train in some of the UK's leading facilities
When you train in the region you'll join East Midlands Pathology Services; one of the country's largest and strongest single-managed pathology partnerships.
Nottingham University Hospitals and the University Hospitals of Leicester each cater for around 1 million patients each and each has their own microbiology laboratory, equipped to a high standard with equipment including an automated blood culture system, automated bacteria identification systems, liquid TB culture, automated enzyme immunoassays and automated molecular extraction and detection systems.
On average both laboratories processes 1.5 million clinical samples  each year which gives you a substantial resource for teaching, training and research. The East Midlands is also well known for its excellence in research in tuberculosis, respiratory viral infections and hepatitis viruses.
In addition, the unique geography of the East Midlands means that you won't be required to commute long distances to other hospitals. You'll benefit from an excellent work/life balance which is perfect if you have a partner/family or you simply want to put down roots. And, with the average house price being 62% lower than London and 44% lower  than the South East it's a highly affordable region.
"Training in the East Midlands was a fantastic opportunity which helped me to acquire a breadth of experience managing patients with various infection issues. I personally found the training very stimulating and full of opportunities to learn and apply the knowledge 'hands on' in day today clinical practice. Being a part of the infection service was extremely rewarding" -Poonam Kapila, Registrar in Microbiology
Diverse ethnic mix gives you opportunities to see a large number of unusual and rare infections
When you train in Medical Microbiology and Virology in the East Midlands the diverse ethnic mix of the populations means you will have the opportunity to see a large number of unusual and rare infections. The large migrant population also means you'll encounter a lot of imported infections such as tuberculosis, HIV, typhoid, malaria and infections with multidrug resistant organisms.
In addition, both Nottingham and Leicester are tertiary centres. That means the microbiology departments provide clinical liaison to a wide range of specialties, especially intensive care (ITU), haematology, renal medicine, infectious diseases, paediatrics, cardiology, cardio-thoracic, neurosurgery and diabetes.
Leicester also boasts an ECMO unit for both adults and children; the only such facility in the UK. You'll therefore benefit from experience managing infections in ECMO patients from around the country and abroad.
Benefit from excellent training programmes
The East Midlands boasts an established scientist training programme for Higher Specialist Scientific Training (HSST), Scientist Training Programme (STP) and Practitioner Training Programme (PTP).
In addition there is a training programme for Foundation Year 2 doctors which offers an opportunity for foundation doctors who are interested in a career in microbiology to experience the specialty before making a commitment towards training in microbiology.
And, the  East Midlands is one of the few centres that support trainees to enrol on the Microbiology MSc with one day per week study leave approved for 2 years. You'll also benefit from a very well established and a highly rated academic clinical fellow programme.
World-class art, sport and culture
The East Midlands is one of the UK's most vibrant regions. With nine universities, world-class concert venues, a thriving local music scene and dozens of popular attractions there's always something for you to enjoy.
Go hiking in the Peak District, watch Test cricket or Premier League football, explore Sherwood Forest, delve into history at the King Richard III Visitor's Centre or Nottingham Castle or simply enjoy the hospitality of Nottingham and Leicester; two of England's top 10 cities.
"Living in the East Midlands was another attraction for me as I could enjoy relaxed life style living in beautiful country side in a nearby village within a drivable distance of few miles and also have close access to  East Midlands Airport" - Poonam Kapila, Registrar in Microbiology
For more information about Medical Microbiology and Virology training in the East Midlands email our Training Programme Director:
Dr N Perera - nelun.perera@uhl-tr.nhs.uk