Core Psychiatry
Why should I consider core psychiatry training in the East Midlands?
Training in the East Midlands will offer you a varied experience in a range of different specialties and locations. The experience spans over both inpatient and outpatient settings, often with opportunities to work within both during a rotation. There are also academic fellowship programmes meaning that those with a special interest in research can have a job devoted to both this and clinical work.
It is a very friendly place to work and you will feel like a part of the team! You will be well supported within your core training with weekly supervision sessions and regular opportunities to discuss any concerns with clinical and educational supervisors. The East Midlands is a very positive place to work where development is encouraged and there are also regular teaching sessions which are aimed to support you in your development as a psychiatrist and in preparation for exams.
What are the available clinical opportunities in the East Midlands?
There is a huge range of different locations, hospitals and sub-specialties, meaning that you are exposed to a variety of settings and are able to learn a lot.
New services include substance misuse, eating disorder and perinatal psychiatry. There are also placement opportunities for high secure forensic psychiatry and adult neurodevelopmental disorder service.
Who are the lead contacts for Core Training?
Training Programme Directors:
North - Dr Hemant Bagalkote
South - Dr Sandeep Singh
Applications for Core Training are the responsibility of the Psychiatry National Recruitment Office, based within Health Education England's North West Local Office. More information can be found at their website https://www.nwpgmd.nhs.uk/ct1_psy_recruit_overview
Where can I work?
The scheme operates as two carousels, one based in the North East Midlands and one in the South East Midlands. Each job in Core Training is six months long and trainees rotate around different posts within each carousel as below. Trainees are expected to spend at least a year (or sometimes more) working outside of their base trust. Each year trainees can preference their choice of jobs for the next training year.
North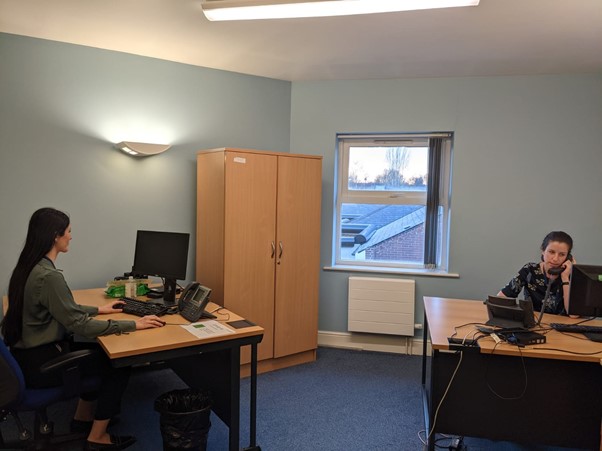 Derbyshire Healthcare NHS Foundation Trust (North and South Derbyshire including Derby and Chesterfield)
Nottinghamshire Healthcare NHS Foundation Trust (including Nottingham and Mansfield)
Lincolnshire Partnership NHS Foundation Trust
South
Leicestershire Partnership NHS Foundation Trust
Kettering – (Northamptonshire Healthcare NHS Foundation Trust)
What would my training look like?
During the three years of Core Training CT1, CT2 and CT3, trainees rotate around six different posts, each lasting six months. There is opportunity to work in a variety of different areas including: General Adult, Older Adult, CAMHS, Intellectual Disabilities, Perinatal, Forensic, Drug and Alcohol and Liaison services. In addition to this, trainees will also complete on-call and out of hours work. By working in a range of different postings there is opportunity to develop core skills, whilst also allowing trainees to explore options for future Speciality Training.
Example timetable of a core trainee:
CT1/2 General Adult
| | | | | |
| --- | --- | --- | --- | --- |
| Monday | Tuesday | Wednesday | Thursday | Friday |
| AM - Ward work & See psychotherapy patient | AM – Balint group & Clinic | AM – Journal Club & Trust based teaching | AM - MRCPsych teaching (fortnightly)/Ward Round | AM – Ward round |
| PM - MDT | PM - Clinic | PM – Ward work & Supervision | PM - MRCPsych teaching (fortnightly)/Ward Round | PM – Ward round |
CT2 – CAMHS
| | | | | |
| --- | --- | --- | --- | --- |
| Monday | Tuesday | Wednesday | Thursday | Friday |
| AM – Admin | AM - Clinic | AM – See psychotherapy patient & attend team meeting | AM – MRCPsych teaching (fortnightly)/ Working with consultant on-call | AM - Clinic |
| PM – Attending CAMHS teaching | PM – Clinic & Balint group | PM – Supervision & Clinic | PM – MRCPsych teaching (fortnightly)/Working with consultant on-call | PM – Opportunity for personal development (e.g. Attending DBT/CBT/Eating disorders clinic) |
CT3 Intellectual Disabilities (Academic Trainee)
| | | | | |
| --- | --- | --- | --- | --- |
| Monday | Tuesday | Wednesday | Thursday | Friday |
| AM – Clinic | AM – Inpatient Unit reviews | AM – Case Presentation and Journal Club | AM – Clinic (monthly MRCPSYCH teaching) | AM – Academic Day |
| PM – Attending IDD teaching programme | PM – Admin and supervision. | PM – Inpatient Unit reviews | PM – Clinic | PM – Academic Day |
Teaching and academic:
Core trainees attend the MRCPsych training course which is delivered via whole day teaching sessions once a month. This teaching is for all trainees in the East Midlands and is based for 6 months of the year in Leicester and the other 6 months in Nottingham. During the COVID 19 pandemic these teaching sessions have been delivered online. The topics of the teaching sessions cover the MRCPsych curriculum to help trainees with revision for Paper A and Paper B examinations as well as sessions focussed on communication skills training to aid preparation for the CASC examination.
Trainees also receive protected time to attend weekly case conference and journal club meetings alongside consultants, GP trainees and Foundation Doctors. Trainees are expected to present once at these meetings every 6 months which allows them to meet the case presentation and journal presentation requirements for their annual review of clinical practice. Trainees will also spend an hour in supervision with their clinical supervisor each week during which they can discuss clinical cases, complete workplace-based assessments and discuss important topics within the speciality.
Research and Quality Improvement:
Health Education East Midlands hosts a number of NIHR Academic Clinical Fellows (ACF) including fellows in Child and Adolescent Psychiatry, General Adult Psychiatry and Old Age Psychiatry. Applications for this scheme are separate from clinical core training applications, see https://www.eastmidlandsdeanery.nhs.uk/recruitment/academic. Information on integrated academic training is available from https://www.nihr.ac.uk/explore-nihr/academy-programmes/integrated-academ... more specific information on this scheme within Nottingham is available at https://www.nottingham.ac.uk/medicine/study-with-us/further-training/integrated-clinical-academic-programme.aspx and at Leicester https://www2.le.ac.uk/colleges/medbiopsych/research/clinical-academic-training. ACFs progress at the same rate as non-academic trainees but have 25% of their time ringfenced to complete research. They can balance their clinical and academic time how best suits their research e.g. some ACFs take their research days as one day a week plus an extra day per month, whereas others may take it in 3-6 month blocks of time.
Clinical core trainees who are interested in research can also make links with the University of Nottingham or University of Leicester. There is a culture within the deanery where trainees are positively encouraged to take opportunities to develop in other areas in addition to clinical practice, such as quality improvement projects both through collaboration and in developing their own projects. Trainees interested in quality improvement can also complete additional qualifications in quality improvement. There is an annual medical education conference in Nottinghamshire Healthcare at which Trainees are encouraged to present their audits, quality improvement projects and research.
Leadership and management experience:
Core training in the East Midlands strongly promotes leadership and management at a local and national level and trainees in the scheme are actively encouraged and supported to develop their skills in this area. Trainees are encouraged to take on leadership roles including becoming trainee representatives on local, regional and national committees. Trainees who are very interested in leadership can apply for a Leadership Fellowship in the East Midlands which grants them time to develop skills specifically in this area.
What else should I know?
There is flexibility within training (LTFT training is available)
Car parking is available on site, free of charge