University of Leicester
Please refer to the table below on this page for further details on the ACF posts on offer at the University of Leicester. Please note that a number of these posts are in direct competition with each other. For further information, please contact Professor Jonathan Barratt, Head of the Postgraduate Specialty School of Clinical Academic Training (jb81@le.ac.uk) or Director of Clinical Academic Training, Professor Matt Bown (mjb42@le.ac.uk). 
For more specific information on ACF opportunities please visit:
The advertising and application period for these posts will be from Friday 7th October 2022 until Wednesday 2nd November 2022. 
It will NOT be possible to submit an application after the closing time stated. Applications will only be accepted if submitted online via the Oriel Recruitment System
The interviews for these posts will take place virtually on Tuesday 13th & Thursday 15th December 2022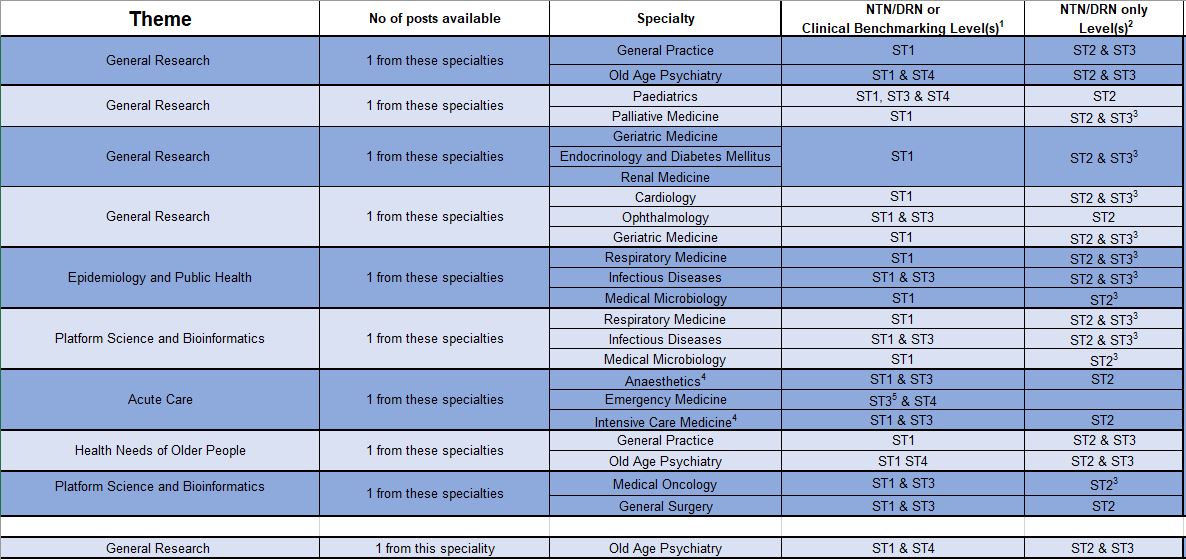 1Applicants to this level must already hold a NTN/DRN in the specialty or apply via national recruitment to this specialty for Clinical Benchmarking
 
 
2As there is no opportunity to apply via national recruitment for clinical benchmarking at this level, applicants to this level must already hold a NTN/DRN in the specialty.
 
 
 
 
3 Applicants to ST2/ST3 level must already hold an IMT/ACCS-IM DRN
 
 
4 Trainees applying for Anaesthetics and Intensive Care Medicine will not be able to undertake Acute Common Care Stem training
 
5Trainees applying for Emergency Medicine at ST3 will only be able to apply if they have already completed 2 years of ACCS training in an approved UK ACCS training programmes by August 2023. 
Trainees who have completed or who are in the process of completing ST3/CT3 Emergency Medicine will not be eligible to apply. Direct Route of Entry into Emergency Medicine is not available for recruitment to this ACF post.
Additional vacancies have been advertised for Leicester in Cardiology, Respiratory Medicine and Public Health.  There is one post available from these specialties and the appointed candidate MUST be in a position to commence in post by 31 March 2023.
The application window for these specialties will close on 13 December 2022.  Interview date is to be confirmed