Northamptonshire Programme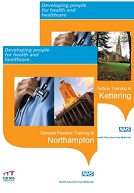 Northampton is home to one of the country's best rugby clubs and a brewery that claims it produces "probably the best lager in the world" and we are also probably one of the friendliest and most supportive programmes in the country.
Northampton is a vibrant, eight hundred year old county town, nestling in a curve of the river Nene. The splendid Guildhall is a gem of Victorian Gothic architecture and its fascinating open air market, one of the largest in the country, has provided a focus for shoppers for centuries. It's beautiful surrounding towns and villages and Market Towns such as Kettering, offer affordable housing and all the usual facilities expected in a modern town.
Northamptonshire, the 'Rose of the Shires', is in the heart of England, between the Midlands and East Anglia. The area is one of the fastest growing in England, both in population and in commercial activity. The area ensures easy, quick access to open countryside and excellent road links allowing easy access to the M1, M6, M11, Leicester, Birmingham, Cambridge and Oxford and a direct rail link to London in 50 minutes. There is a fast train service to St. Pancras International as well as three international airports within an hour's drive.
The Northamptonshire Programme is a friendly training programme with a high standard of teaching designed to meet a GPStR's needs, and as Leicestershire programme is close, you may train with GPStR's from this programme. The main hospitals used by the Northampton Programme are Kettering General Hospital, Northampton General Hospital & Northamptonshire Healthcare NHS Trust. It is likely that you will have posts in a number of different sites. General Practice placements cover the area of Northamptonshire, in both rural and urban settings.
We are extremely proud of our local training practices and trainers. Many practices have new premises. We include innovative learning resources within the Programmes that include learning through the humanities. The programme has been training general practitioners since the 1960's, with many local GPs being past graduates of the former Northampton or Kettering GP Training Programmes.
Within Northampton we have two main areas, Northampton and Kettering.
If you would like to learn more, please contact Jane Fiolka, LNR GP Training Programme Manager on 0116 478 8652, or email: jane.fiolka@hee.nhs.uk.
Kettering
Programme Directors Dr John Mellor FRCGP and Dr John Hart FRCGP
The half day release programme is held in Kettering General Hospital Postgraduate Medical Centre, which is well equipped with pleasant air conditioned rooms with full audio-visual facilities.
Northampton
Programme Directors Dr Emily Wallis, Dr Nichola Harcombe and Dr Henry Akintunde
The training practices in this part of Northamptonshire are split into two areas, one centred on the town of Northampton in the north and the other in the small towns and villages of the southwest corner of this beautiful county.
Trainers work very closely together, and offer some shared learning for the registrars across the programme. Registrars will also meet with their peers in Northampton each Wednesday for group learning. We occasionally share some teaching sessions with the Registrars based in Kettering area, so there is ample opportunity to meet with other registrars across the whole country.
Training Practices
Please see the downloadable documents on the lower right hand side of the screen.