Chesterfield Programme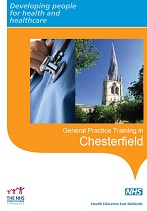 Chesterfield is a historic market town, perhaps most famous for the 'Crooked Spire' of the Church of St Mary and All Saints. Chesterfield has weekly open-air markets and the Shambles area, with Derbyshire Peak District, Hardwick Hall and Chatsworth House nearby. Chesterfield has its own railway station, is within easy reach of Robin Hood and East Midlands Airports, and easy access to the M1 via junction 29, 29A or 30, and is easily commutable from Nottingham, Derby or Sheffield.
Chesterfield has one of the longest established GP Programmes, being formed in 1973 before specialist GP training became compulsory.  Since then we have progressively expanded to our present size with a potential intake of 36 new entrants each year onto our three year scheme.  We are a medium sized programme, where you will receive great support from the programme directors, consultants and administrative staff. The programme ethos is based around support, encouragement and success.
Our focal point has always been Chesterfield Royal Hospital and we retain a close relationship with the consultant trainers and a shared administration team based in the hospital Education Centre.
We have 60 GP trainers in 29 training practices spread throughout North Derbyshire, from Alfreton in the South, to Dronfield North, Darley Dale to the West and Shirebrook East. This provides a variety of experience from Chesterfield town centre surgeries, small town ex-mining communities and rural villages on the edge of the Peak District.
Our GP ST Registrars are based in GP training practices for 24 of their 36 months training, usually undertaking 4 months at their base practice in year 1, 4 months at a practice giving different experience at year 2.  During ST2 GP placement, and if progressing satisfactorily, our trainees will have the opportunity to undertake an ITP spending half time in practice, and half time in a specialty of your choice to cover any areas that you have not got in your rotations.  The final 12 months of GP is usually spent in your base practice with your ES.
The remaining 12 months in 4 month attachments to the following hospital posts; General Medicine, General Psychiatry, O & G, Paediatrics, Trauma & Orthopaedics, Accident & Emergency, ENT, Palliative Medicine and General Surgery. 
Our half day release is structured around the GP curriculum. There is RCA training from the first few months in ST1 continuing to more in depth training in ST3.  There is AKT training in ST2 and ST3 partially run by successful trainees who recently sat the exam and passed well. We offer extra support to those who are not successful. We have courses on communication skills and management in General Practice in ST3.
What our trainees tell us
"Working in a District General Hospital gives you more experience in a broader range of medical subjects as well as a better chance to improve your clinical skills".
"The consultant teaching is very good".
"You feel part of a medical community where people know each other. This is supportive and helps with communications between GPs and consultant colleagues".
"The teaching programme is excellent and continues to improve".
"The Training Practices are of a consistently high quality so it does not matter where you are placed".
"Private study is always available for the trainees".
"We were amazed by how much we had already covered when we attended national training courses".
Prizes and Distinctions
We offer an annual prize for 'best e-portfolio', 'best AKT result' and 'best CSA result'.
Chesterfield GP Training Programme. Sarah Bradley Tel: 01246 512057 sarahbradley4@nhs.net , Programme Administrator, Nicole Stevens nicole.stevens1@nhs.net, Generic email address crhft.gpst@nhs.net or visit our website: http://www.chesterfield-gpspt.org.uk/