University of Nottingham 
Please refer to the table below on this page for further details on the ACF posts on offer at the University of Nottingham. Please note that a number of these posts are in direct competition with each other. For further information, please contact Professor Jonathan Barratt, Head of the Postgraduate Specialty School of Clinical Academic Training (jb81@le.ac.uk). Alternatively, please contact Director of Clinical Academic Training, Professor Helen Budge (helen.budge@nottingham.ac.uk) or Clinical Associate Professor, Dr Shalini Ojha (shalini.ojha@nottingham.ac.uk). 
For more specific information on ACF opportunities please visit:
The advertising and application period for these posts will be from Friday 7th October 2022 until Wednesday 2nd November 2022. 
It will NOT be possible to submit an application after the closing time stated. Applications will only be accepted if submitted online via the Oriel Recruitment System
The interviews for these posts will take place virtually on Tuesday 6th & Friday 9th December 2022.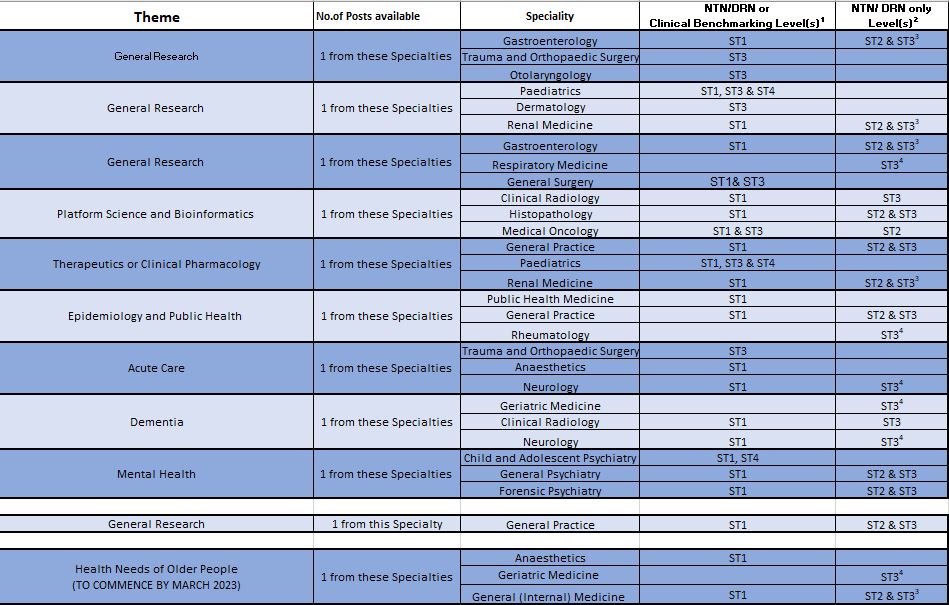 1Applicants to this level must already hold a NTN/DRN in the specialty or apply via national recruitment to this specialty for Clinical Benchmarking.
 
2As there is no opportunity to apply via national recruitment for clinical benchmarking at this level, applicants to this level must already hold a NTN/DRN in the specialty.
3Applicants to ST2/ST3 level must already hold an IMT/ACCS-IM DRN
 
 
 
 
4Applicants to ST3 level must already hold an IMT/ACCS-IM DRN