East Midlands Foundation Schools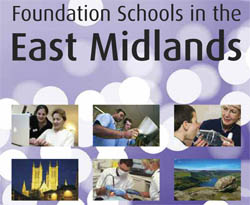 Health Education England (HEE) has overall responsibility for the management and delivery of postgraduate medical education and for the continuing professional development of all foundation doctors within the patch.
The East Midlands foundation programme is made up of two foundation schools, each linked to a medical school:
LNR Foundation School - linked to University of Leicester
Trent Foundation School - linked to University of Nottingham
Dr Charlie Mackaness is the Trent Foundation School Director and Dr Rachel Parry LNR Foundation School Director.  The Foundation School Directors are supported by an administrative team based at Health Education England's East Midlands office.
Foundation Programme Recruitment
Dr Robert Powell, former Director of Foundation Training for the East Midlands. introduces training in the LNR and Trent Foundation Schools. Read more
Foundation ARCPs
Each Summer the LNR and Trent foundation schools will be running ARCPs for all foundation doctors. The ARCP panel will be convened at your hospital base and will make a recommendation to the Associate Foundation School Director about your progression to the next phase of training (i.e. F1s – progression to F2 training; F2s – progression to Specialty Training). Read more
Applying for Foundation training from abroad
If you are currently studying abroad, it is easy to apply for jobs in Foundation training in the UK. Read more
Our Academic posts are co-hosted with the School of Clinical Academic Training. Please click the here to follow the link for more information.
Foundation Programme
Introduced in 2005 as part of the Modernising Medical Careers initiative the foundation training programme is the entry route for postgraduate medical training in the United Kingdom. The Foundation Training Programme forms the bridge between medical school and specialist/general practice training. It is a two-year generic training programme offering exposure in a variety of healthcare settings and is designed to provide a general overview of clinical specialties to enable trainees to make more informed decisions about future career choices.
Reporting Concerns about the balance between service and education
If you are concerned that there is an inappropriate balance between service and education in your current rotation/training programme then the foundation schools advise that you discuss your concerns with the Foundation Training Programme Director at your base hospital, with HEE's quality team at their HR clinics and/or report this to the foundation school via ESD.em@hee.nhs.uk.
You can also raise such concerns through the end of placement surveys or at HEE's quality management visits to hospital sites.