Trent Foundation School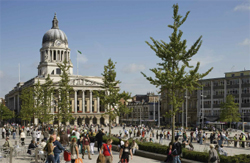 The East Midlands is the perfect place to undertake your Foundation training. It is one of the fastest growing regions in the country and boasts superb transport links, a vibrant nightlife and world-class sport, music and culture.
Keep reading to find out more about Foundation Training in the East Midlands and what the Trent Foundation School can offer you.
"I have really enjoyed my time at Trent. There is a strong link with the medical school with many opportunities to improve my teaching skills and it has been great to work at the Queens Medical Centre - a tertiary centre. I have lived in the East Midlands all my life and am still finding new things to do and there is a fantastic atmosphere between the trainees and plenty of opportunities to socialise" - Sophie Walker, Foundation Trainee
Trent Foundation School covers the areas of Derbyshire, Nottinghamshire and the majority of Lincolnshire. Our central location puts us in easy reach of all major UK cities.
The school offers over 600 training opportunities, the training programmes are organised geographically so that rotations are either based in the east (Lincolnshire and Nottinghamshire) or in the west (Derbyshire and Nottinghamshire) of our region. Cross-trust rotations are the cornerstone of all of our training programmes; this means that you are likely to work and train in different hospital locations in your F1 and F2 year. For the majority of trainees this will involve working in a large hospital in one year and a smaller hospital in the other year.  We believe this, coupled with the challenges presented by the rural, suburban and urban communities that these hospitals serve, affords all our trainees with an extensive range of learning opportunities.
A 2 year linked training programme gives you varied and interesting placements
Unlike many other regions of the UK, when you come to the East Midlands for your Foundation training you'll join a 2 year linked programme. This means that you have the stability of knowing where you will live and work for two years plus the flexibility and option to swap within the region if your circumstances change.
Trent Foundation School covers Derbyshire, Nottinghamshire and Lincolnshire and offers over 600 training opportunities. The training programmes are organised geographically so that your rotation will never involve a long commute or the need for you to move home. You'll benefit from experience in both city based teaching hospitals and smaller district general hospitals and this gives you exposure to rural, suburban and urban communities, each of which has their own particular needs.
You'll benefit from an extensive range of learning opportunities and all of our programmes offer community placements, meaning you'll gain exposure to general practice, public health or psychiatry as part of your training.
Start and continue your career in the East Midlands with plenty of job opportunities
As well as a high quality Foundation Training programme, we'll also help you to develop your career in the East Midlands. A dedicated Foundation Training director will look after all your training and career needs and you'll have access to a first-class careers team and lots of career support from advice to simulated interviews.
The East Midlands also offers a huge choice of clinical, teaching and research opportunities. Whether you want to move into general practice, medicine or other specialities we have schools that offer high quality programmes and support to help you throughout your training.
World-class sport, arts, music and nightlife - and just an hour from London and Birmingham
"I have really enjoyed training in the East Midlands Foundation school. There are multiple opportunities to help you work on your portfolio including careers courses, conferences, audits and quality improvement projects to take part in. There are many sights to visit locally and if you want to travel further afield many large cities are less than 2 hours away which means catching up with friends and family is simple" - Lauren Taylor, Foundation Trainee
The Trent Foundation school is based around the University cities of Nottingham, Derby and Lincoln and also includes the market towns of Chesterfield, Boston, Grantham and Mansfield.
Nottingham has the highest proportion of 16-24 year olds in the country, over 61,000 University students and was named as one of the Top 50 Urban Places to Live in the UK by the Sunday Times in 2015, partly thanks to its 'thriving live music scene'. Derby is England's most central city and you'll enjoy a surprising mix of performance venues including the Guildhall, Derby Dance Centre and the QUAD Arts Centre.
Lincoln's skyline is dominated by its historic cathedral - which doubled for Westminster Abbey in the Da Vinci Code movie - while Mansfield and Chesterfield boast a rich heritage and are conveniently located for the M1.
If you like the great outdoors then the region is perfect. It's just a short journey to the Peak District, the stunning Lincolnshire coastline, Sherwood Forest and Rutland Water and so whether your passion is walking, cycling or climbing there's something for you.
For more information on Trent Foundation School and Foundation Training in the East Midlands get in touch:  foundationprogrammes.em@hee.nhs.uk