Doctors in training and educator feedback about the PSW service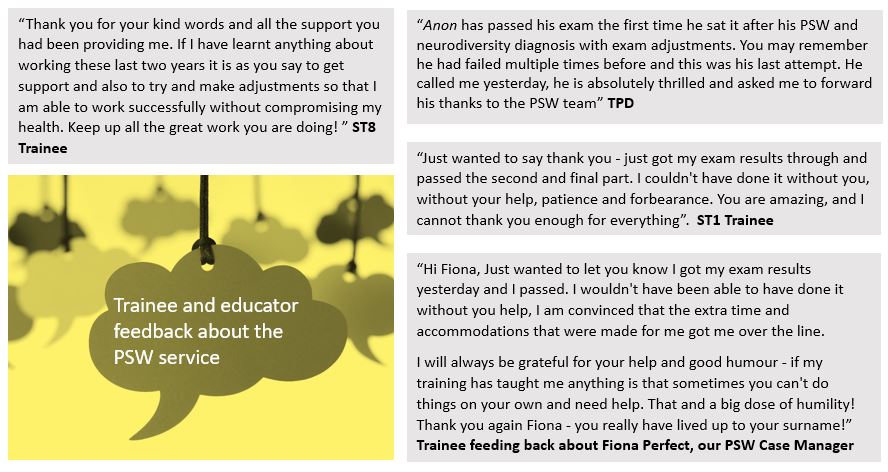 Doctors in training feedback about our study support providers, the Learning Support Centre (LSC)
The LSC help with study skills and exam preparation in areas of time management, organisation, revision strategies, and exam techniques.

Case Studies
Below are some example scenarios that a doctor in training could face. We have summarised the path they could take and how a referral to the Professional Support and Wellbeing service would be beneficial to the situation.
Case Study One
A doctor in training was referred by their Training Programme Director, following them reporting difficulties with keeping up to date with portfolio requirements and problems with record keeping
The PSW Case Manager made referral for study support with a specialist tutor to identify strengths which may support work performance and learning and identify weaknesses which may inhibit these
The study support worked on developing weaker areas and learning strategies to help them manage administrative work and better manage their eportfolio.
Case Study Two
A final year doctor in training was referred to the PSW service following unsatisfactory comments in their MSF regarding communication and team working when under pressure
After the doctor in training had discussed the referral and support options with a Case Manager, the PSW made a referral for specialist leadership coaching to work on personal attributes at work and when under pressure, leadership skills and motivation
The Leadership coaching was completed over 4 month period and supported the doctor in completing training satisfactorily.
Case Study Three
A doctor in training was referred following an incident that led to patient death
The doctor reported that this had had an impact on their wellbeing and confidence at work
The PSW Case Manager made a referral for confidential counselling sessions and also to HEE's Occupational Health, to confirm if the doctor was fit to train and fit to be assessed in training. Occupational Health recommended coaching to help develop confidence, which was completed over 6 months and enabled the doctor to progress and continue in training.